Back
KTM East Saigon Grand Opening – 15.05.2022
15-05-2022 16:30 - 21:00
Showroom KTM East Saigon - 65 Nguyễn Cơ Thạch, Phường An Lợi Đông, TP. Thủ Đức, TP. HCM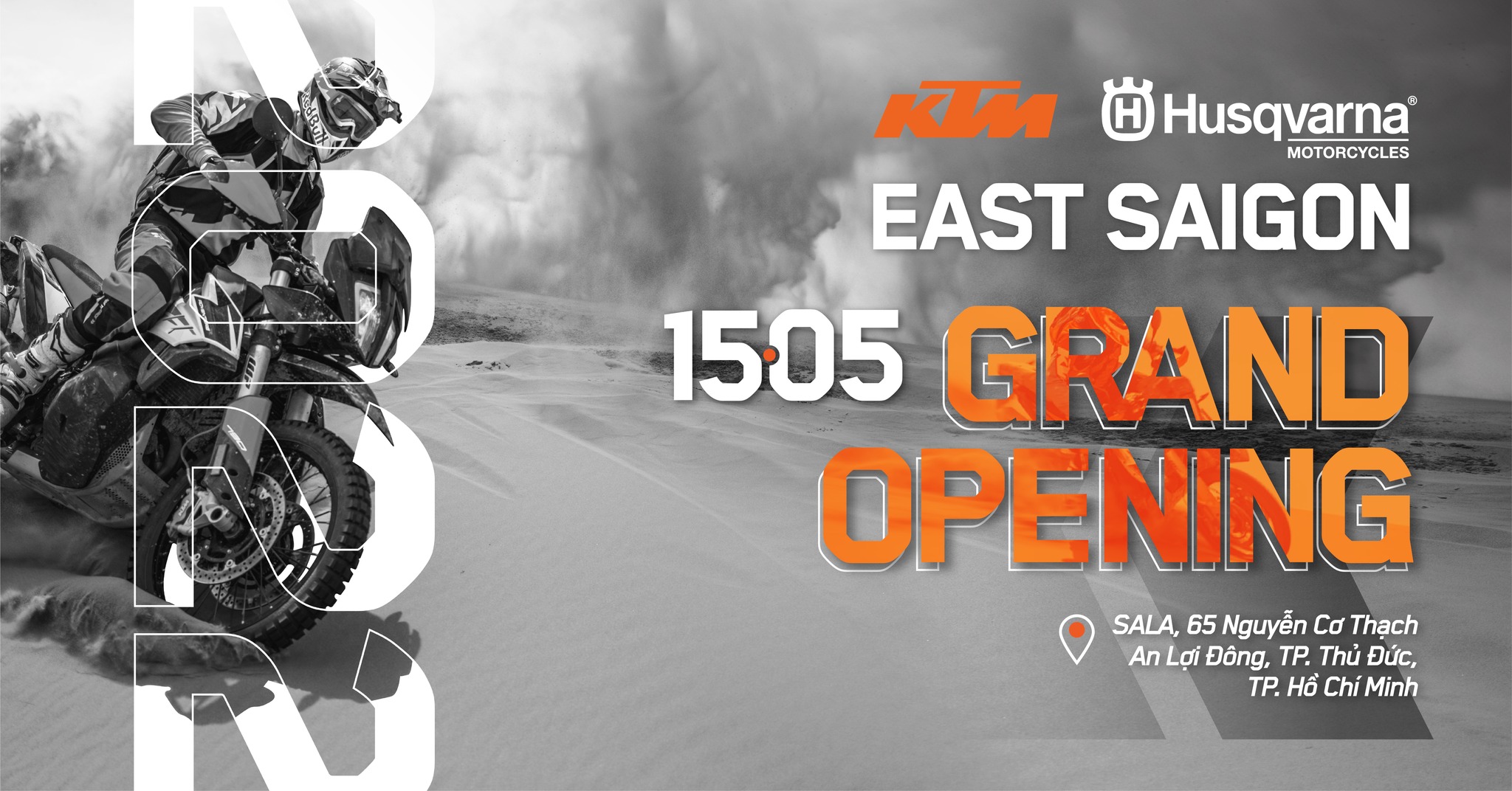 LỄ RA MẮT SHOWROOM KTM EAST SAIGON
Với mong muốn mang thương hiệu xe mô tô KTM đến gần hơn với các khách hàng đam mê xe phân khối lớn ở khu vực miền Nam, lễ khai trương showroom KTM East Saigon sẽ chính thức diễn ra vào ngày 15/05/2022 với nhiều hoạt động hấp dẫn!
Chúng tôi thân mời quý khách hàng đến tham dự buổi tiệc ấm cúng, chiêm ngưỡng không gian trưng bày các mẫu xe KTM mới nhất, sản phẩm thời trang & phụ tùng chính hãng. Cùng với đó là những bất ngờ đang chờ đón các Anh Em Biker tại sự kiện.
⏰ Thời gian: Chủ Nhật, ngày 15/05/2022
16:30 – 18:00 Đón khách
18:00 – 21:00 Grand Opening
📍 Địa điểm: Showroom KTM East Saigon – 65 Nguyễn Cơ Thạch, Phường An Lợi Đông, TP. Thủ Đức, TP. HCM
☎️ Hotline: (+84) 888.366.711
——-
Grand Opening of KTM East Saigon
Come & join us on Sunday, May 15 to celebrate the new KTM East Saigon showroom, the very first showroom in HCMC to boast the new visual brand & corporate identity. Where the combination of modern & classic and new converge for the ultimate motorcycle encounter! The world-class showroom will be teeming with KTM Motorcycles, Merchandise, Parts & Accessories!
Did we mention a lot of surprises waiting for you at the event?
⏰ Time: Sunday, May 15th, 2022
16:30 – 18:00 Welcome Guests
18:00 – 21:00 Grand Opening
📍 Location: KTM East Saigon Showroom- 65 Nguyen Co Thach, An Loi Dong Ward, Thu Duc City, HCMC
☎️ Hotline: (+84) 888.366.711